More Than a Cemetery — A Family Trust and Commitment
Born in Philadelphia in 1865, E. F. White became a prominent Delaware Country funeral director, businessman and politician, serving as Chief Clerk of the House of Representatives for the State of Pennsylvania during the early 1930s.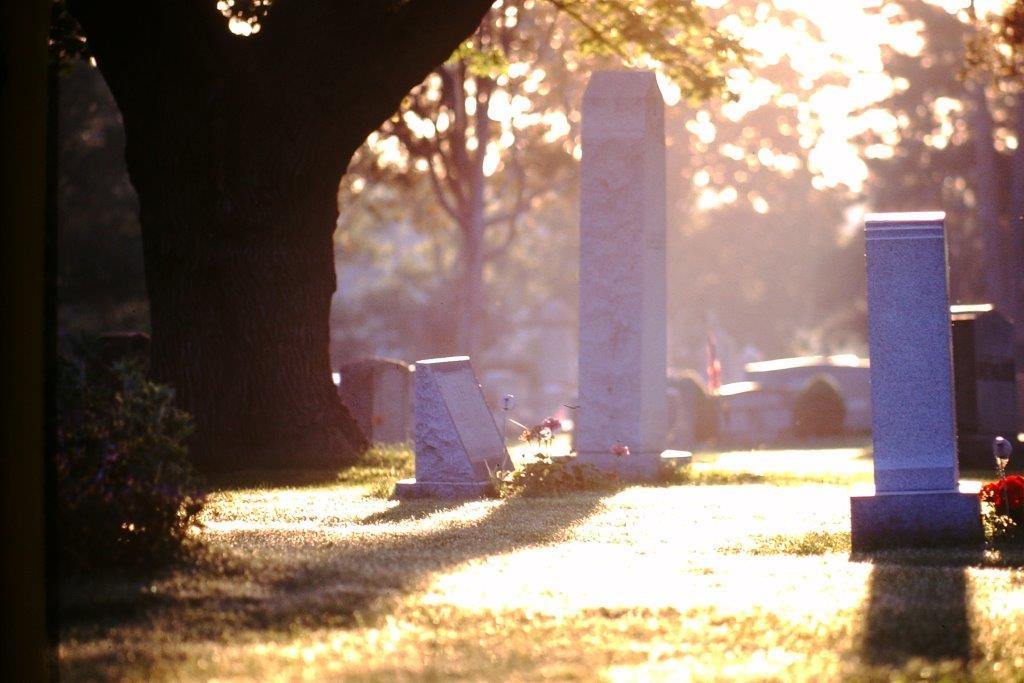 Lawn Croft History
In 1904, Mr. White founded Lawn Croft Cemetery, which today is owned and operated by his descendants into the fifth generation. Situated on more than 80 acres of rolling mature parkland in southern Delaware County, Lawn Croft has been serving families from the tri-state area for more than 100 years.
The cemetery occupies what were once the Armstrong and Speirs farms. The beautiful, gray stone building that now houses the office also served, at various times, as home to four different generations of E. F.'s descendants. Older area residents may remember the organ that dominated the central hall of the building. Today, visitors hear music provided by a carillon donated by Margaret Quinn Stauffer, a granddaughter of E. F. White, in memory of her parents.
Standing as sentinels at the entrance are five granite pillars. Family legend has it that these pillars are as deep into the earth as they are above it. A Delaware County landmark for more than a century, these pillars were brought by rail from the granite quarries of Mt. Airy, North Carolina. According to a story in the Chester Times, one of the stones alone weighs more than 40 tons. It took two months to move the five pillars a distance of just 1,000 feet. Their placement required the removal of 8,640 cubic feet of earth, 310 perch of stone, one railcar of cement, and two railcars of sand.
In the early part of the 20th century, Lawn Croft sat in what was then a rural area between the cities of Chester and Wilmington. In 1910, to make it easier for families to reach its grounds, Mr. White added the convenience of a funeral car. A customized carriage mounted atop a three-ton Packard truck chassis could carry the casket, six pall bearers and between 24 to 28 mourners. At one time, both the Chester and Wilmington trolley companies also dedicated funeral cars to transport people to and from the cemetery.
A stroll through Lawn Croft provides a history of this area's development as members from all of the immigrant groups who helped grow this region rest here, and veterans from every major conflict since the Civil War are honored here by a memorial dedicated to their service.
During the 1918 flu epidemic, with no vaccines available, an estimated 16,000 residents of the Philadelphia area died between September and November of that year.
The catastrophic number of flu casualties overwhelmed medical personnel and local officials. As a result, mass burials were not unknown. Area funeral directors and cemeteries were challenged with keeping up with the demand for burial space. Lawn Croft was no exception. Approximately 80 unidentified flu victims are buried here in a mass grave.
Lawn Croft also has the distinction of housing a church graveyard within a cemetery. In the 1930s, the pastor of Marcus Hook Baptist Church came to E. F. White with a request. To meet the needs of a growing congregation, a larger church was required. The expansion of the church would necessitate removing the graveyard to another location. E. F. gave permission to the church to move their graveyard to Lawn Croft Cemetery, where it exists to this day as a separate entity within the cemetery's grounds.
Lawn Croft Today
To keep current with customer needs, over time the cemetery has added a mausoleum and columbarium. And unlike many cemeteries that outsource maintenance and general upkeep, Lawn Croft's dedicated grounds crew are employees, half of whom have been with us for over 20 years. In fact, our superintendent has been with Lawn Croft for over 30 years.
While burial and funeral customs may change with time, the quiet beauty of Lawn Croft remains a constant. Today, two generations of E.F.'s descendents, preserving a family tradition, serve on its board of directors. It is this continuity of stewardship that guarantees that our founder's vision of a family-centered, well-manicured and serene final resting place carries forward.
More than half of our usable space is still available. In accordance with Pennsylvania law, Lawn Croft's perpetual care fund ensures that the cemetery will be maintained in perpetuity for the families it serves.